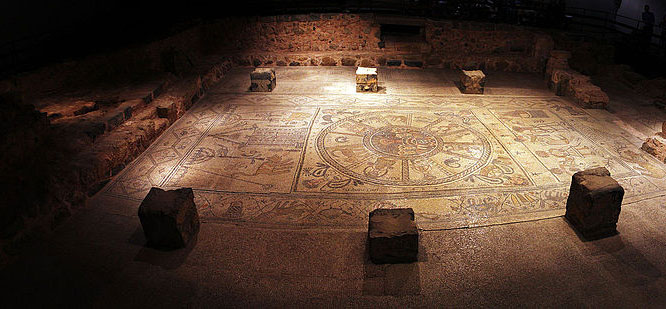 The ancient synagogue at Kibbutz Hephzibah
An ancient synagogue was built in the fifth century BC.
The synagogue is an archaeological site and an ancient relic from the Byzantine period in Israel. At the entrance to the synagogue on the floor, were discovered two inscriptions; Aramaic inscription states that the mosaic was made during Emperor Justinian I, Who ruled in 527-518. Writing in the Greek language perpetuates the memory of the artists who made the mosaic Marianus and his son Hanina.
The most beautiful discovery of the synagogue is a spectacular mosaic floor in the main hall. The Mosaic consists of several parts:
One part is a zodiac with the 12 signs written in Hebrew. The center of the circle describes Helios, the sun god, speeding a chariot drawn by four horses. Four female figures in the corners of the mosaic represent the four seasons.
The other part of the mosaic describes the sacrifice of Isaac in which Abraham seems, bearded, holding a knife, while his son Isaac is bound with ropes.
The site presents a filmed performance that illustrates the way of life in the ancient village, and the creation of the mosaic.
National Parks Authority has made restoration in the site, and built a covered structure over the mosaic floor, also landscaping work, parking and restrooms.
Operating hours:
April – September – 08:00-17:00
October – March – 08:00-16:00
Entrance fee: Adult – 18 NIS, Child – 8 NIS.
Phone: 04-6532004