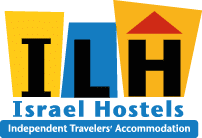 Alfa Guest – in Kibbutz Beit-Alfa
At the foot of Mt. Gilboa, on the premises of Kibbutz Beit Alfa, nestled between numerous natural water sources and  in a region full of  history, is where "Alfa Guest " is located – with country style rooms for over-night stays and backpacker accommodations  , all dipped in green..
 The site includes;double-rooms , family flats,
suited for  handicapped guests and two dormitories.
Each room contains: air-conditioner, Cable T.V, couch, coffee corner + coffee condiments, refrigerator, electric kettle and a microwave oven.
At front of each room there is a  porch with tables & chairs, and a barbeque.
A Dining Hall: With "kosher" approval.
A Swimming pool in season.
"Kolbo" a minimarket open daily.
On the Kibbutz: "Inbal & Tamar" – A children's play room with a boutique store , a playground, a  a sports field ,   a swimming pool (in season) / "Davidka" – a local; museum, various treatment center (massage, relexology) and a second hand clothing store. 
Attractions in the surrounding area:
The Beit-Alfa ancient synagogue (located in Heftzi-Ba)
A small enchanting Japanese Garden (visits by pre-arrangement only).
Gan-Hashlosha – the "Sachne". A natural hot pool, only a few minutes away from "Alfa-Guest ".
"Park-Hamaayanot" ("The Springs Park")- a National Park based around natural hot springs.
"Gan Guru": An Austrailan Animal park.
"Gan Leumi Maayan Harod":A National Park with hot springs, playgrounds and the famous "Prophet Gideon Cave.
"Gan Leumi Beit-Shean" A National Park containing world famous ancient Roman ruins including a  large amphitheater that is still in use today (where there is a nightly laser light show in the summer season).
Ganei Huga: Water and nature  park.
Walking trails on the Gilboa Mountian.:
The Hidden Valley.
Wadi Yitspor.
Ein Yizrael: An active spring with a water-dripping tunnel.
The Mt. Gilboa peaks: Mt. Barkan, Mt. Shaul, Shaul's "shoulderwith fields of  Iris flowers (in season) and a great view of the  Jezreel Valley
 Referred restaurants in the area:
Dag Dagan: Fish & meat restaurant.
Kimel: Gourmet restaurant at the entrance to Mt. Gilboa.
Havat Hatavlinim: Gourmet restaurant on Mt. Gilboa.
Shipudi Hakikar: Oriental restaurant at entrance to Beit-Shean (closed Fri / Sat).
Arrival Directions:
From Tel Aviv- a bus to Afula's central station, from there bus number 412 to Beit Alfa.
From Jerusalem- a bus either to Beit She'an or to Afula, and from either one, bus number 412 to Beit Alfa.
From Nazareth- a bus to Afula and then bus number 412 to Beit Alfa.
From Haifa- bus number 301 to Afula and 412 to Beit Alfa.
From Haifa and Tel Aviv it is also possible to take the train to Beit She'an, from there a shuttle into the city and then bus number 412 to Beit Alfa.
An additional option is to schedule in advance transport from the Beit She'an train station to Beit Alfa, for  a fee of 35 NIS.